Jan Schulte-Bunert
Saxophone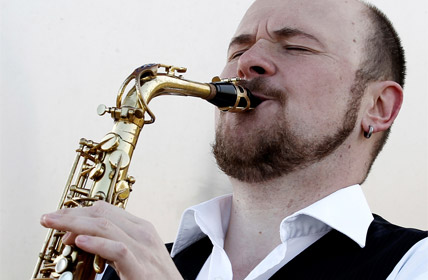 Jan Schulte-Bunert is one of the pioneers of the new German school of saxophone: his playing is characterized by its warm, enthralling tone, its brilliance, and the sheer joy of making music. He can be heard as a soloist with an orchestra, as a saxophonist with the Berlin Philharmonic Orchestra and as a member of the saxophone quartet "clair-obscur".
Concerts and masterclasses have taken him all over Europe and to America and Asia. He has been honoured with numerous prizes, including at the "Deutsche Musikwettbewerb", the Gaudeamus International Interpreters Award and the "ECHO Klassik", Germany's major classical music award.
The "International Masterclass for classical saxophone", which he started at Laubach, is regarded as one of the most prestigious worldwide. Jan Schulte-Bunert is a teacher at the College for Music and Theatre in Rostock and at the Music Academy in Darmstadt.
Are you interested in a concert project with Jan Schulte-Bunert?
Please contact klangkultur - Stephan Popp.