clair-obscur
saxophone quartet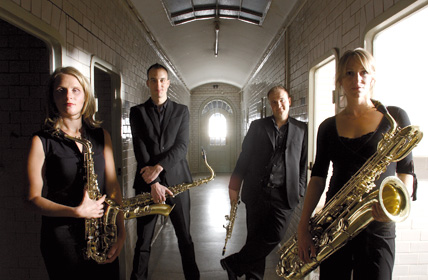 The ensemble clair-obscur has ranked among the world's leading classical saxophone quartets for many years. In their performances they seek to emulate the ultimate in chamber music , the string quartet. Not least among the reasons for this is that all four members studied with Friedemann Weigle, the internationally renowned viola-player of the Artemis Quartet, who teaches at the music college in Berlin. It is rare indeed to hear the saxophone being played in so colourful, refined, delicate and melodious a way as at the performances of this ensemble.
As the musicians play a many-sided instrument, they are open to unusual styles and forms of concert, at which they strive for the same perfection as in classical music. However, their focus is very much on the music, not the technical capabilities of the saxophone, which is one of the reasons for the group's success.
Their reputation is founded on numerous prizes at international competitions as well as on regular performances on stages large and small all over the world, including the Carnegie Hall in New York, the Munich "Residenztheater" and the Berlin Philharmonic concert hall.
For the visual aspect of their performances the musicians have taken drama classes. They develop these concerts, for both adults and children, in collaboration with a theatre producer, and have thereby gained experience which also guarantees an unusual presence for their classical performances.
The four musicians of clair-obscur - Jan Schulte-Bunert, soprano saxophone; Maike Krullmann, alto sax; Christoph Enzel, tenor sax und Kathi Wagner, baritone sax – teach at the music colleges in Darmstadt, Rostock and Berlin. They also teach at international masterclasses, and perform regularly with top orchestras, such as the Berlin Philharmonic Orchestra.
clair-obscur play Glass Mishima
at Arte Lounge
The Wedding on the Eiffel Tower
Are you interested in a concert project with clair-obscur?
Please contact klangkultur - Stephan Popp.