Natasha Korsakova
Violin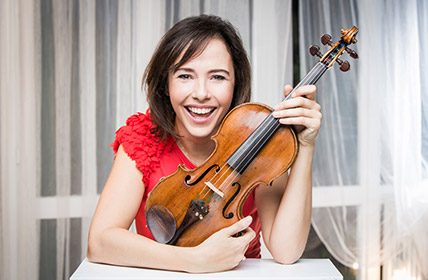 Virtuoso Natasha Korsakova, of Russian-Greek decent, is one of most popular violinists of her generation. The German Süddeutsche Zeitung describes her ability to play the violin as a "sinfully beautiful listening experience". The artist stands for "Perfect technique, bold stylistic sense and musical intuition (FAZ) as well as for a charisma that without equal.
Her repertoire includes ca. 60 Concertos for Violin and Orchestra as well as numerous chamber-music works.
The award-winning violinist has appeared in some of the world's most prestigious concert halls, international festivals and orchestras around the world. She is also an enthusiastic chamber musician.
In 1998, she became "Artist of the Year" in Chile.
In 2008, Natasha Korsakova was awarded the «Premio Sirmione Catullo» and became «Artist of the Year» in Italy. Recitals followed in Palazzo Quirinale and at the famous Piazza Campidoglio in Rome, both concerts were in the presence of the Italian State-President.
Natasha Korsakova is a cultural ambassador of "Fondazione Sorella Natura" in Assisi, Italy. In the connection with the Audience for Fondazione Sorella Natura, she played for the Pope Benedict XVI at the Sala Nervi in Vaticano (2011), together with the outstanding swiss violinist Manrico Padovani.
Internationally renowned composers such as Daniel Schnyder and Robert Vinson have written and dedicated Ms. Korsakova the Violin Concertos "Mozart in China" and "Concerto in F – Tribute to G. Gershwin".
The violinist was born into a music family in Moscow and began playing the violin at the age of 5. Her first teacher was her grandfather Boris Korsakov. He was followed in her musical education by her father, the well-known Russian violin virtuoso Andrej Korsakov. Her mother is the pianist Yolanta Miroshnikova-Caprarica. After the early death of her father, Natasha Korsakova studied under the tutelage of Prof. Ulf Klausenitzer in Nuremberg and then later with Prof. Saschko Gawriloff in Cologne.
Natasha Korsakova plays a precious violin made by J.B.Vuillaume (Paris, 1851) and lives in Switzerland.
A. Vivaldi - L'inverno - Natasha Korsakova - Dir. Jader Bignamini
Natasha Korsakova and Kira Ratner play Mendelssohn Double Concerto, 1st mov.
A. Piazzolla - L'estate - Natasha Korsakova - Dir. Jader Bignamini
Natasha KORSAKOVA plays Shostakovich Violin concerto no. 1/4 Mvt. (Burlesca) in Mexico City
Are you interested in a concert project with Natasha Korsakova?
Please contact klangkultur - Stephan Popp.