Heiko Mathias Förster
Conductor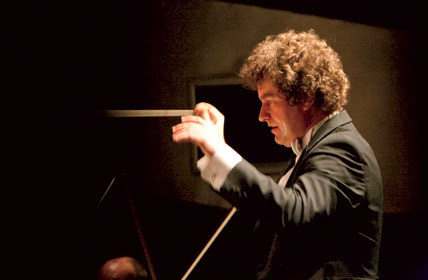 Heiko Mathias Förster was born in Mecklenburg, and when he enrolled as a student of piano in Berlin, he never imagined that one day he would be the conductor of a large orchestra. However, he chose to specialize in this field while relatively young and at the age of 23 he became principal conductor of the Brandenburg theatre. Soon afterward he was conducting the Munich Symphony Orchestra.
Between 2007 and 2014 Heiko Mathias Förster was principal conductor of the New Westphalian Philharmonic Orchestra, directing symphony concerts and operas, such as Verdi's "Othello"; "Samson et Dalila" by Camille Saint-Saens and the German premiere of Isaac Albeniz's opera "Merlin".
Working with Förster is highly valued by many stars of the musical scene, including Rolando Villazón, Elina Garanca and Angela Gheorghiu. Together with Vicco von Bülow, renowned in Germany as "Loriot", he planned and brought to fruition the Wagner-project "The whole Ring on one night".
As guest conductor, Förster has performed regularly with well-known orchestras all over the world, including among others the Israel Symphony Orchestra, the National Taiwan Symphony Orchestra, the Berlin Radio Symphony Orchestra and the Prague Symphony Orchestra.
Since the start of the season 2014/2015 Heiko Mathias Förster has been principal conductor of the Janacek Philharmonic Orchestra in Ostrava in the Czech Republic.
Ludwig van Beethoven, Leonora Overture No.3, op.72b
Robert Schumann, Piano Concerto a-minor, op. 54
Antonín Dvořák, Symphony No. 5 F major, op. 76
Are you interested in a concert project with Heiko Mathias Förster?
Please contact klangkultur - Stephan Popp.